At Toyota of Hollywood, we strive to make sure every customer has the best possible buying experience. Our customers are the reason why Toyota of Hollywood is the #1 Toyota dealer in the Southeast Region, in Florida, and in the South Florida Metro area. Our achievements are because of you!
*2015 per Southeast Toyota Distributors
President's Award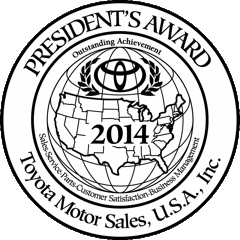 Th
ank
s to our customers, Toyota of Hollywood is a 22 time winner of the President's Award. This is oneof the highest honors for a Toyota dealership.
 In order to qualify as a President's Award winner, dealerships must excel in each of a series of categories, including Customer Sales Satisfaction and Customer Service Satisfaction. 
Board of Governors
Toyota of Hollywood is a 31 time winner of the prestigious Board of Governors award. Each year, an elite group of dealerships are recognized by Toyota Motor Sales for all their sales success, hard work and dedication with the Board of Governors 

designation. This elite group understands that a successful business is built by keeping customers happy. To be considered for the Board of Governors award, a dealership 
must be among the top 60 dealers in non-fleet vehicle sales volume, must be in operation for the entire year, plus numerous other requirements. These high standards ensure that a Board of Governors dealer is committed to your customer satisfaction.
Presidents Cabinet
Toyota of Hollywood has received Toyota's highest and most prestigious and exclusive honor as a 4 time winner of the Presidents Cabinet award. The Presidents Cabinet is comprised of the twelve highest SalesSatisfaction Index dealerships from the nation's top sixty volume Board of Governor and President's Award dealerships. Out of all of the Toyota dealerships nationwide, only twelve receive the honor of participating in the Presidents Cabinet. Thanks again to our loyal customers for helping us achieve this award!